Ultra 90s plays for Katie Price & Kieran Hayler as they renew their Wedding Vows
16 March 2015
Katie Price & Kieran Hayler Renew their Wedding Vows and Party with Ultra 90s!!!!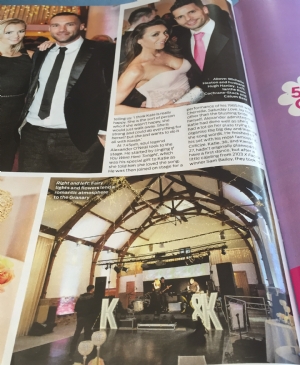 After being invited to Katie & Kierans West Sussex home in January to discuss plans for the big day, Kelly & Chris have been keeping details to themselves until OK! Magazine released pics and interview with the happy couple in Issue 972 out on the shelves today (Tues 10th March 2015).
Kelly and Chris spent a few hours at their beautiful home (under rennovation at the time), chatting about the ceremony and the party with Katie, Kieran, Katies sister Sophie and Kierans mum Wendy. They all jumped in the car and headed down to Long Furlong Barn to have a look around the venue...
Back at the house, Kieran cooked fresh Duck Egg Sandwiches (which were very nice!!) and the chat continued over a cup of tea.
Arrangements took place during Katies stint in the CBB House and all was coming together ready for Sat 21st Feb.
Ultra 90s arrived at lunchtime to get set up, sound check and have a run through the song Katie was singing with the Band - Live Lounge version by Kiesza doing 'Nobody To Love/Doo Wop That Thing'
Junior was singing an impromptu version of 'Ill Be There' by the Jacksons, so Chris jumped on Piano to back him.
During the show, Richard on Guitar did his usual 'in the crowd craziness' for Insomnia and chose Sam Bailey to play to.
Katie was invited on to Stage to sing with Kelly and the band - they performed Nobody to Love/Doo Wop that thing after Katie spoke to the crowd about everyone leaving this party with somebody to love...
The crowd were loving it, all singing and dancing to all the classic 90s dance anthems.
Katie said in the interview "We had Ultra 90s who also played at our Willy Wonka-themed wedding in 2013. They do all the classics and got everyone dancing, as you can see from the pictures"